Escape the hustle and bustle of city life with a serene getaway to Broken Bow, Oklahoma. Blazing Trails Properties offers an idyllic retreat with their cabin rentals, perfect for those seeking a peaceful weekend escape.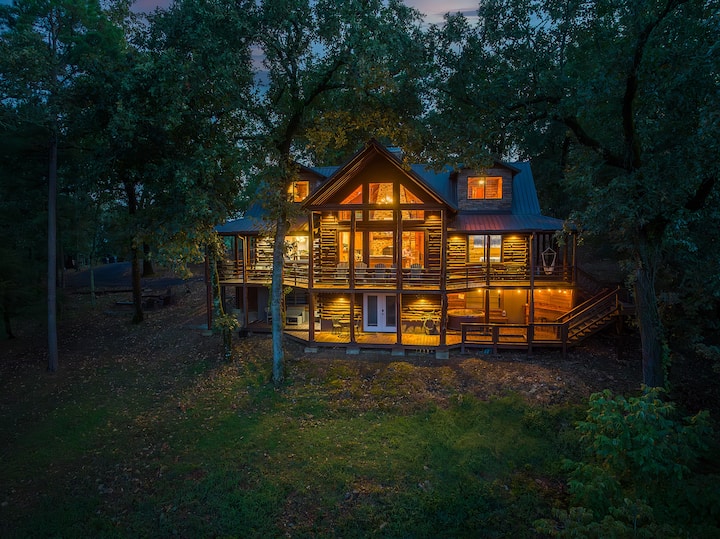 Unmatched Natural Beauty
Broken Bow is nestled in the heart of nature, surrounded by lush forests, a gorgeous lake, the clear cold rushing Lower Mountain Fork River, and rolling hills. Our cabins provide a front-row seat to breathtaking scenery, ideal for nature enthusiasts and photographers alike.
A Haven for Outdoor Activities
The area around Broken Bow is a playground for outdoor activities. From hiking in Beavers Bend State Park, fly fishing on the Lower Moiuntain, to boating in Broken Bow Lake, there's something for everyone. Our cabins provide easy access to these adventures.
Cozy and Comfortable Accommodations
Blazing Trails Properties ensures your stay is comfortable and memorable. Our cabins are well-equipped with modern amenities, blending rustic charm with contemporary comforts. Whether it's a family trip or a romantic getaway, our cabins cater to all needs.
Proximity to Local Attractions
Our cabins offer a serene escape, with two of them situated ideally close to everything, just about 10 minutes away from local restaurants, shops, and cultural sites. This proximity offers the perfect blend of peaceful seclusion and easy access to nearby attractions. The other two cabins provide an even more secluded retreat, nestled 25-40 minutes away from the bustling activities in Hochatown, ensuring a tranquil experience while still being within reach of the area's lively spots.
Ideal for All Seasons
Broken Bow's beauty is captivating throughout the year, making it an ideal destination for every season. From the vibrant colors of fall to the blossoming flowers of spring, our cabins provide the perfect setting to experience the natural beauty of the changing seasons. With each season offering its own unique charm, you'll find that any time is a great time to visit and immerse yourself in the picturesque surroundings.
Privacy and Peace
One of the biggest draws of cabin rentals in Broken Bow is the privacy they offer. Away from crowded hotels, our cabins provide a peaceful environment where you can unwind and reconnect with loved ones.
Your Perfect Getaway Awaits
Blazing Trail Property's cabin rentals offer more than just a weekend escape; they provide a unique opportunity to bring the entire family together under one roof. With Blazing Trails Properties, you can cook, dine, and unwind in a shared space, creating lasting memories in the comfort of our cabins. Experience the perfect blend of adventure, relaxation, and the added benefit of togetherness, far surpassing the experience of a typical hotel stay. Book your cabin today and prepare for an unforgettable escape to Oklahoma's hidden gem, where quality time with loved ones is the heart of your stay.